Activity Report of 2018 – 19
Annual Cultural and Literary meet Sambhrama 2018 on 12th, 13th and 14th December 2018, during which students of JSS College of Nursing participated in various cultural and literary competitions and won prizes.
Inauguration of Sambhrama 2018 was formally held on 12th December at 03 pm at Dr. Sri Shivarathri Rajendra Bhavan, Mysuru. Guests were Dr. Manjunath, Registrar, JSS University of Academy for Higher Education, Mysuru and Mr. Chandan Gupta, Play back singer. Sri R Mahesh, Director, Medical Education Division, JSS Mahavidyapeetha, Presided over the occasion. After inaugural program, at 5pm events like Solo song Indian, Solo classical dance, Solo dance Indian and solo song western were conducted.
On 14th December 2018 programme started at 3 pm with Mime, Group song western, Group dance Indian, Mr. and Ms.CON were conducted followed by prize distribution for the winners. Cultural meet ended with vote of thanks at 8.30pm.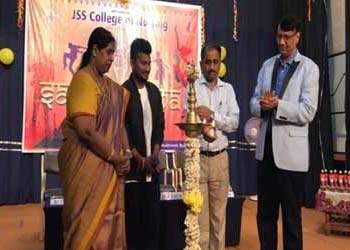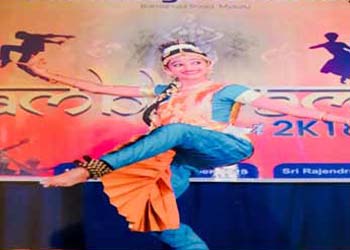 JSS College of Nursing organized Annual Sports Meet Energia 2018-19 on 8th December 2018 at JSS Public School Ground Mysuru. Students actively participated in both indoor and outdoor events. The inauguration of Energia 2018 was formally held on 8th December 2018 at the Sports ground of JSS Public School Mysuru. The program was inaugurated by Ms. Dhanushree M R. International Athlete Mysuru. Sri Mahesh R. Director Medical Education Division JSS Mahavidyapeetha presided over the occasion and encouraged the students to participate in Sports activities. After inauguration the outdoor events like 100 meter, 200 meter running, 400 meters relay, short put, discus throw, volleyball, throw ball, long jump, high jump, three legged race was conducted. Overall champion was won by 3rd year BSc Nursing Students and Individual championship men was won by Mr. Tenzin Dasel of 2nd year PB.BSc Nursing and Individual championship women was won by Ms. Tesna Shajan of 3rd year BSc Nursing. The Annual Sports Meet, Energia 2018 ended by 6.30pm with the active participation of students.